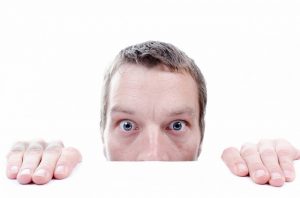 Marketers beware!
The following approaches are worse than Child's Play. They're the stuff ROI nightmares of made of!
1. Spam in all forms!
It is never a good idea to send out impersonalized mass messaging. Every item of communication your company sends out needs to be highly relevant — or you will scare off far more leads than you'll gain.
Note: marketing automation (done correctly) is NOT spam!
2. 43-Field Forms.
Long forms are a sure-fire way to horrify prospects — and encourage them to bounce from your site. Yes, capturing information is super important. But keep the process of collecting info gradual. The initial form should be as simple as possible, so if yours resembles a Stephen King novel it is time to revise.
How many fields should you include? Our research has shown the one-field form to be most effective. Yup — ONE. Ask for only an e-mail address to start. Trust us. It's a solid beginning to a beautiful relationship.
3. The Yellow Pages.
Do you laugh when you receive your copy in the mail? We do.
Why would anyone take the time to get up, pull this giant book from the junk drawer, lug it to the couch, and thumb through when all they need to do is type the name of the pizza place into the phone that is already in their hand?
People seek info about new companies and services almost exclusively online, where they can review info at their discretion and check out what others are saying about a business.
We consider this antiquated book the Dracula of a marketing budget. That is, a very effective way to drain funds with no return.
4. Companies that Specialize in Television Media Buying.
There's a time and place for everything, yes. But for the most part, you shouldn't waste your time (or budget!) trying to get noticed on a medium dominated by DVRs and Hulu. Companies should strive to appear helpful with inbound tactics, not as an intrusive annoyance when a prospect is trying to relax and watch the latest episode of The Walking Dead.
5. Using E-mail Marketing in the Place of a Marketing Automation Platform.
This one is mostly a nightmare for the marketer. Good intentions usually suck the marketing pro into this trap. But the desire to save the company a little money usually results in a ton of tedious manual work, cumbersome management for the marketer, and these 7 symptoms. A marketing automation system or CRM, on the other had, saves businesses lots of time and hassle and achieves significantly better ROI. Marketing automation is, hands down, the better investment.
Want to learn more? Get in touch. We love helping companies learn about more cost-effective ways to market themselves!
HAPPY HALLOWEEN, from Lake34 Marketing!